A University- and Community-Wide Celebration of Dignity
When: Tuesday, October 10, 5:30–7:30 p.m.
Where: Dr. Martin Luther King, Jr. Plaza, State College, PA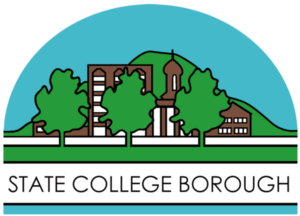 The State College Borough and Penn State Outreach are proud to present PA Dignity Day, the local celebration of Global Dignity Day 2023. Join us as we come together in support of the belief that everyone deserves to live a life of dignity.
We invite community members and students on a shared journey to discover and discuss opportunities to seamlessly weave dignity into the places we live, work, learn, and play.
You won't want to miss this evening of idea sharing, music, and culinary treats from some of the region's top food trucks.
In the event of inclement weather, the event will be moved to the State College Municipal Building. The decision will be made 24 hours in advance. People who have registered will be notified through email, and this webpage will be updated accordingly.
Community-Wide Dialogue
This community-wide dialogue will allow you to discuss topics that uniquely matter to you and how they relate to dignity. Whether you want to explore how to strengthen town-and-gown relations or perhaps manage dynamics when controversial speakers come to town, the evening will let you dive into meaningful conversations with a diverse group of individuals who call State College and Penn State home.
We'll also have a DJ spinning tunes and an interactive photo mosaic that you can contribute to throughout the evening.
Dignity-Themed Mosaic Mural
We are building an interactive photo mosaic mural that reflects the diversity of people and perspectives in our community. Help us build the mural by submitting your own photo. During the event, you'll get a chance to see your photo displayed alongside those of hundreds of other community members.
Free Dinner for the First 150 Registrants
The first 150 people who register to attend will receive a free meal ticket to be redeemed at participating food trucks. 
Registration
Use the form to register to attend PA Dignity Day or to submit your own photo for the mural. You can also sign up to receive PA Dignity Day updates.
PA Dignity Day Sponsors
Contact Information
For inquiries about PA Dignity Day, please contact us at padignityday@psu.edu.
What Is Global Dignity Day?

Global Dignity Day is a celebration of unity in the belief that everyone deserves to live a life of dignity. First observed in 2008, Global Dignity Day is held on the third Wednesday in October in more than 80 countries. It was founded by Crown Prince Haakon of Norway; entrepreneur John Bryant, CEO and founder of Operation HOPE; and Professor Pekka Himanen, author and philosopher.
What Is Dignity?
Dignity is a feeling in your core.
A belief in your own worth.
A belief in the worth of others.
With dignity, we lead lives of hope, optimism and compassion,
Guided by a universal ethical compass.
Dignity is the belief that our basic humanity
Is shared with every other person on this planet.
Definition courtesy of globaldignity.org
Take the Dignity Pledge
I pledge to join with others to create a world where compassion, understanding, and love triumph over intolerance, injustice, and inequality. I pledge to be kind and open-minded, honoring the unique gifts and value of others.