Vice President for Outreach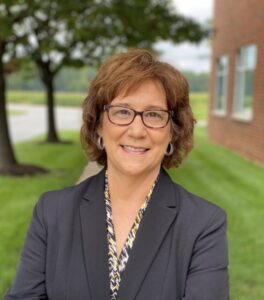 Tracey DeBlase Huston, Penn State's Vice President for Outreach, has more than 30 years of experience in higher education and over two decades of service to Penn State. Having served as the Interim Vice President for Outreach since January 2017, Tracey officially became the permanent leader of Outreach on July 1, 2018.
Prior to her appointment as Vice President for Outreach, Tracey was the Associate Vice President for Marketing and Enrollment Services for Outreach and Online Education. She also previously served as the Executive Director for Outreach Marketing and Communications, and as Director of Outreach Communications. Before her arrival at Penn State in 1994, Tracey served in two different roles at Juniata College. She was the Assistant Director of Public Relations and the Director of Sports Information.
In 2017, Tracey was appointed treasurer of the Executive Board of the National Engaged Scholarship Consortium. She previously served on the National Association of State Universities and Land Grant Colleges Extension Committee on Organization and Policy, Marketing and Communications Task Force from 2006 to 2012 and as Vice Chair for Communications for the University Professional and Continuing Education Association Engagement and Outreach Community of Practice in 2008. Her work has been recognized nationally with awards from the Council for Advancement and Support of Education and the University Professional Continuing Education Association.
Penn State Outreach Leadership
Advisory Board
Ed Barrientos, Brazen Technologies, Inc. (CEO)
Susan Baxter, SIR Research (VP, Strategic Planning)
Robert Beaury, Penn State University (Interim Director, Entrepreneurship Minor)
Rick Bentz, Hershey Company (Retired, CIO)
Scott Bohrer, Thrive Commerce (Co-Founder & CEO)
Dave Brannon, Leidos (Senior VP, Corporate Strategic Development)
Tom Brugger, Sun National Bank (Former Executive VP & CFO)
Sandra Charles, Library of Congress (Chief Medical Officer and Chief of Health Services)
Jonathan Dambrot, Prevalent Inc. (CEO)
Sheila Gallucci-Davis, Subaru of America, Inc. (VP of General Counsel)
Rudy Glocker, Lanakila Investments LLC
Priscilla Guthrie, The Institute for Defense Analyses (ISTD Fellow)
Sepi Kashani Burkett, Giant Foods (District Director of Operations)
Steve Leamer, The T!LT Group (Partner & CEO)
Daniel Mazur, Norfolk Southern (Retired, VP of Strategic Planning)
Edward Marflak (Entrepreneur)
Ryan McCombie, US Navy (Retired)
Jose Morales, Saviesa Solutions (Owner & Principal)
Bob O'Donnell, State College Area School District (Superintendent of Schools)
Susan Palombo, Ready366 (President & Founder)
Thayer Potter, Twin River Wealth Management LLC (Managing Director)
Rebecca Rodskog, FutureLeaderNow (Co-Founder & Managing Director)
Steve Schlotterbeck, EQT Corporation (Retired, President and CEO)
Josh Snow NBCUniversal (Vice President of Digital Products)
John Tarley, Tarley Robinson, PLC (Managing Attorney)
Jeanie Ulicny, Ulicny Financial Communications & Strategy (Managing Partner)
Ron Wagner, ModSpace (VP, Marketing)
Amy Williams, SageWorks Rx (President)
Beverly Wise, Wise Leadership Strategies (Founder & CEO)
Gabe Young, All Access Labs (Founder)