Vice President for Outreach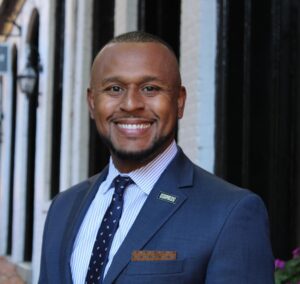 Larry D. Terry II became the vice president for Penn State Outreach in January of 2023. Prior to his position at Penn State, Dr. Terry served as the executive director for the Weldon Cooper Center for Public Service and as a professor in the Frank Batten School of Leadership and Public Policy, both at the University of Virginia (UVA).
During his time as executive director, Dr. Terry led efforts focused on making a difference in the commonwealth of Virginia through public impact research and leadership development, managing a team of more than 50 and a $7.5 million annual budget across five different units — the Center for Survey Research, the Demographics Research Group, the Center for Economic and Policy Studies, the Virginia Institute of Government, and the Sorensen Institute for Political Leadership. He was also appointed to the Virginia State Crime Commission in 2020 by former Governor Ralph Northam to address criminal justice reform policy.
Dr. Terry also currently serves as the president of the Consortium of University Public Service Organizations (CUPSO), which supports university-based public service institutes in their efforts to assist state and local governments by facilitating networking, information exchange, and collaboration among its member institutions.
His research interests include police-community relations, criminal justice reform (including second chance communities/returning citizen assistance), restorative justice, community leadership, local government, and democratic governance. His work has been published in several professional and academic journals, including Leadership and Management: Emerging, Contemporary, and Unorthodox Perspectives; Journal of Leadership and Management; International Journal of Public Administration; and Public Administration Review.
Dr. Terry earned his Ph.D. in Public Affairs from the University of Texas at Dallas, a master's in public administration from San Diego State University, and a B.A. in Black Studies from the University of California at Santa Barbara.
Contact Dr. Terry at outreachvp@psu.edu.
Current Research
Dr. Terry is currently authoring The Hope for Humanization: Values, Politics, and the Community Imperative for America's Rebirth. In recent years, the social, political, and cultural divisions at the forefront of American discourse and public policy have had a corrosive impact on our ability to address our collective problems and have also increased our willingness to dehumanize "others" at the individual and community levels. As we have responded to the COVID-19 pandemic, mass incarceration, natural disasters, Black Lives Matter, the killing of George Floyd, and even mass shootings that claim the lives of children, we have become increasingly polarized by widespread insistence on taking a zero-sum stance that counters many of the values that serve as the foundation of our American democracy. In this book, Dr. Terry will unpack many of the historical roots of dehumanization in the United States and their impact on our well-being, as well as how traditional notions of civil society are imperative for strong community bonds — which include deliberation and disagreement. Guided by both optimism and pragmatism, this manuscript prescribes a four-part framework that we can use as neighbors, parents, colleagues, and community and institutional leaders to do our part in humanizing one another so that we all are included in the American dream of life, liberty, and the pursuit of happiness.
Selected Publications
Terry, L.D., and Andonoska, L. (2015). "(Supra)national Leadership and Institutional Reform European Union Integration: The Case of Montenegro" Journal of Leadership and Management, 3(5-6).
Terry II, L.D. (2015). "From Entrepreneurialism to Populism: The Rise of Bill DeBlasio as 'Everyman's' Mayor of New York City" In S. Foreman and M. Godwin (Eds.), Local Politics and Mayoral Elections in 21st Century America: Keys to City Hall.
Preview book chapter on Google Books.
Terry, II, L.D. (2014). "Strategic Leadership in New York City Housing Reform: Blending an Organizational and Institutional Approach in Plan NYCHA: A Roadmap for Preservation" Journal of Leadership and Management,1 (1).
Henderson, A., and Terry II, L.D. (2013). "Unpacking the Global Perspective: Examining NISPACee Region-Focused Public Administration Research in American Scholarly Journals" International Journal of Public Administration, 37, 353-362.
Download paper (PDF).
Terry II, L.D. (2010). "El Paso, Texas – Politics over Professionalism in the Shift to Council-Manager Government" In J.H. Svara and D.J. Watson (Eds.), More than Mayor or Manager: Campaigns to Change Form of Government in America's Large Cities. Washington, D.C.: Georgetown University Press.
Read book chapter through Penn State University Libraries.
Svara, J.H., and Terry II, L.D. (2009). "The Present Challenges to ASPA as an Association That Promotes Public Professionalism" Public Administration Review, Nov-Dec, 1050-1059.
Download paper (PDF).
Denhardt. J.V., Terry II, L.D., Ramirez, E., and Andonoska, L. (2009). "Barriers to Citizen Engagement in Developing Countries" (2009). International Journal of Public Administration, 32, 1268-1288.
Download article through Penn State University Libraries (PDF).
Penn State Outreach Leadership