Interim Vice President for Outreach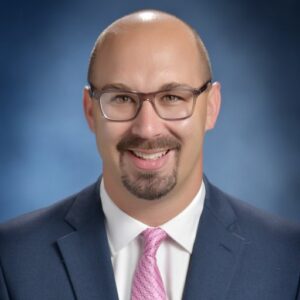 Dr. Justin Aglio is the founding senior director for the Readiness Institute at Penn State, and as of July 1, 2022, is also the Interim Vice President for Outreach. In addition to his duties at Penn State, he is a visiting LearnLab fellow at Carnegie Mellon University, Getting Smart columnist, and member of the Remake Learning network.
Prior to assuming his role at Penn State, Dr. Aglio was an award-winning educator, serving as a teacher, principal, and district leader. He started several all-new initiatives in public education, including the first K–12 artificial intelligence program in America, and was selected as a participant in the 2015 Presidential Maker Roundtable discussion at the White House.
His thoughts on academic achievement, equity, leadership, STEM, artificial intelligence, personalized learning, and innovation have been featured in such publications as Forbes, EdSurge, Education Week, American School Board Journal, and School Administrator. Dr. Aglio has been a keynote speaker and presenter at a variety of national conferences including ASCD, ISTE, FETC, PLearn, OETC, and the AIM Institute for Learning and Research.
Penn State Outreach Leadership
Advisory Board
Ed Barrientos, Brazen Technologies, Inc. (CEO)
Robert Beaury, Penn State University (Interim Director, Entrepreneurship Minor)
Scott Bohrer, Thrive Commerce (Co-Founder & CEO)
Dave Brannon, Leidos (Senior VP, Corporate Strategic Development)
Sandra Charles, Library of Congress (Chief Medical Officer and Chief of Health Services)
Jonathan Dambrot, Prevalent Inc. (CEO)
Rebecca Friese (Rodskog), FLYN (Co-Founder & Managing Partner)
Sheila Gallucci-Davis, Subaru of America, Inc. (VP of General Counsel)
Rudy Glocker, Lanakila Investments LLC
Priscilla Guthrie, The Institute for Defense Analyses (ISTD Fellow)
Sepi Kashani Burkett, Giant Foods (District Director of Operations)
Steve Leamer, The T!LT Group (Partner & CEO)
Daniel Mazur, Norfolk Southern (Retired, VP of Strategic Planning)
Edward Marflak (Entrepreneur)
Jose Morales, Saviesa Solutions (Owner & Principal)
Susan Palombo, Ready366 (President & Founder)
Thayer Potter, Twin River Wealth Management LLC (Managing Director)
Rebecca Rodskog, FutureLeaderNow (Co-Founder & Managing Director)
Steve Schlotterbeck, EQT Corporation (Retired, President and CEO)
Josh Snow NBCUniversal (Vice President of Digital Products)
John Tarley, Tarley Robinson, PLC (Managing Attorney)
Jeanie Ulicny, Ulicny Financial Communications & Strategy (Managing Partner)
Amy Williams, SageWorks Rx (President)
Beverly Wise, Wise Leadership Strategies (Founder & CEO)
Gabe Young, All Access Labs (Founder)