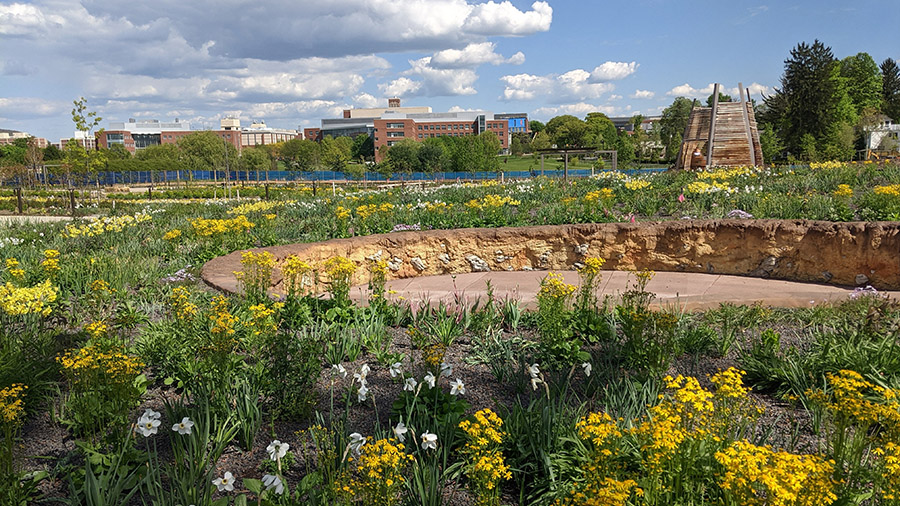 Located on 370 acres of verdant land adjacent to the University Park campus, The Arboretum at Penn State features a number of gardens, groves, and natural spaces, including the Childhood's Gate Children's Garden and Pollinator and Bird Garden. The Arboretum is open every day from dawn until dusk and admission is free.
Our Mission
The mission of The Arboretum at Penn State is to engage the academic strengths of the University in promoting scholarship and education about plants and their history and importance on Earth.
Impact
The Arboretum plays both active and passive roles in the University's resident education programs, and dozens of instructors use the resources of the Arboretum each year. The H.O. Smith Botanic Gardens and natural areas host research projects by University faculty and students in fields as diverse as ecosystem science and management, plant science, pollinator health, and augmented and mobile learning. The Arboretum serves public education through interpretive tours, informational signage and brochures, and adult and children's educational programs, including workshops, camps, and webinars.
Student Engagement
Each summer the Arboretum offers internships for undergraduate students and recent graduates interested in deepening their horticultural skills. Internships provide an immersive educational experience, combining hands-on garden training with field trips, discussion sessions, and the opportunity to interact with and lead groups of Arboretum volunteers. View internship opportunities
Penn State students provide critical volunteer support for just about everything the Arboretum does, from leading tours to tending gardens and restoring woodlands to planning and facilitating special events. No matter where a student's interests may lie, the Arboretum has an appropriate volunteer opportunity. View volunteer opportunities
The alignment of the Arboretum within the Outreach portfolio will enable us to provide a high level of support to engage diverse audiences in programming, create synergies with other Outreach units, and more fully support the work of University faculty.