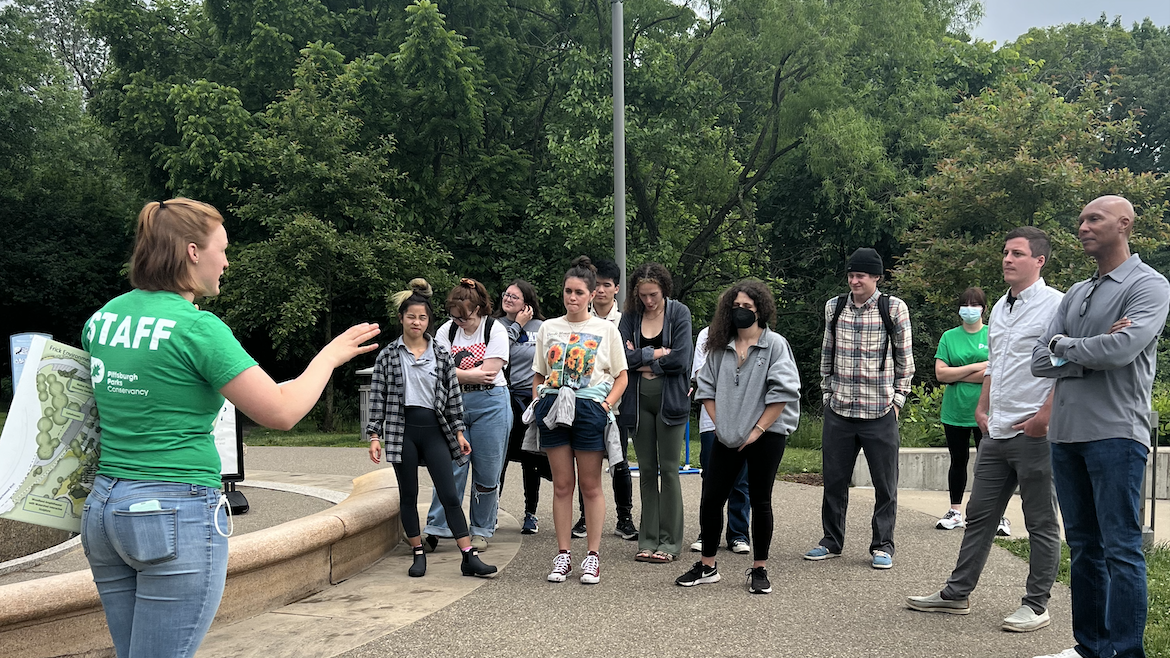 The Penn State Center Pittsburgh recently concluded its eighth cohort of the City Semester Pittsburgh experience. Since 2017, City Semester Pittsburgh has matched 32 community partners with 60 students from 7 Penn State colleges and 20 different majors, including a growing number of students who are also pursuing the interdisciplinary Sustainability Leadership minor. The program gives Penn State students the opportunity to explore real-world issues in climate action, architectural design, clean energy, landscape architecture, urban equality, education, and much more.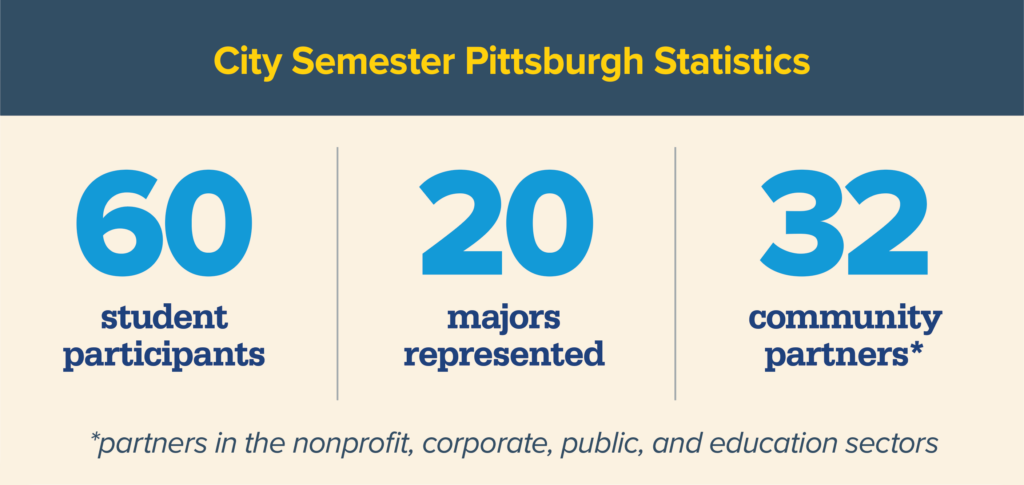 City Semester students are placed with a prominent community partner to complete a virtual or in-person field experience that is worth 3–5 credits. This internship is typically 20 hours per week, but can be tailored to meet specific academic program requirements. Students are matched with community partners based on placement preferences, career interests, and applicable skills.
The program includes a 3-credit urban sustainability course (EARTH 412) that shares the relevance of sustainability across all disciplines and features readings and videos, prominent guest speakers, and field trips to build on students' internship experiences. As part of their course work, students produce videos that showcase their City Semester experience.
Nonprofit Partners
412 Food Rescue
Audubon Society of Western Pennsylvania
The Brashear Association
Breathe Project
Center for Victims
Green Building Alliance
Grounded Strategies
Just Harvest
New Sun Rising
Pennsylvania Environmental Council
Pennsylvania Resources Council
PA Solar Center
Pittsburgh Food Policy Council
Pittsburgh Parks Conservancy
Riverlife
Tree Pittsburgh
Sankofa Village Community Garden
Sustainable Pittsburgh
Upstream Pittsburgh
Corporate Partners
Civil & Environmental Consultants, Inc.
Covestro
Ethos Collaborative
Fourth Economy
J. Frank Studios
LaQuatra Bonci Associates
Pashek+MTR
PPG Paints Arena
Public Sector Partners
Allegheny County Conservation District
Allegheny County Parks Department
Pittsburgh Department of City Planning
Urban Redevelopment Authority
Education Sector Partners