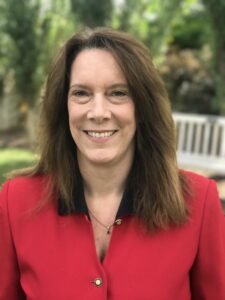 In celebration of Women's History Month and the many amazing women who make Penn State Outreach impactful throughout so many communities, we interviewed Patti Doroschenko. Patti is an administrative assistant — and so much more —  with the Nittany AI Alliance. Here is what we talked about:
Tell me about your role with Penn State Outreach.
Technically, my designated role is that of an administrative assistant with the Nittany AI Alliance, but my job and what I actually do is much more than that. While I do typical administrative duties, I work with great teammates who allow me to broaden my horizons, take an interest in my opinions and ideas, and push me to reach my full potential. I help manage and supervise an entire group of students, Nittany AI Advance, as they work with industry partners to develop AI proofs-of-concept. I am leading our planning efforts on our most important event, the AI for Good Expo, making it easy for students and other attendees to navigate the Expo and get the full experience. I work with the Nittany AI Challenge program manager as he focuses on multiple student teams, helping them progress through each phase of the Challenge, and makes the program seamless. Finally, I have created, and am helping to launch, a new program for our student alums called Connect.
How does your work impact the communities within Penn State Outreach?
Not only does our work at Nittany AI impact the communities within Penn State Outreach, but it also impacts the communities surrounding Penn State. Each one of our programs leverages faculty expertise and internal and external partnerships and follows the mission, vision, and goals brought forth not only by Outreach leadership but by Penn State as a whole.
How do you hope to see your position grow during your time with Penn State?
I have been with Penn State for more than 26 years, and in every department I have been a part of, I have gained a new experience to take with me. This has helped me enhance the work and programs for each department I join. I am hopeful the new job profile and compensation structure Penn State is putting in place will provide others like me, who strive to add value in many different ways and do more than their day-to-day administrative duties, the opportunity to be recognized for our contributions.
What about your work with students makes you most proud?
Having the ability to watch and listen to each individual and team that participates in the Challenge and in Advance is awe-inspiring. Seeing their ideas come to life, knowing we had the opportunity and ability to harness their ideas and help them tackle tasks that they felt were too big a burden, and seeing the outcome after months of hard work make what we do worth it. And working with the alumni, seeing where their hard work has paid off and where they have ended up, brings great joy.
What advice would you offer to individuals who are interested in making a greater impact in their respective fields?
Be proactive. Be a leader. Think ahead. Don't be afraid to speak up. If you believe you have a great idea, voice it, no matter how insignificant or out-of-the-box you feel it may be. You never know when that idea may be the one thing that solves a larger problem and inspires a whole new reality.