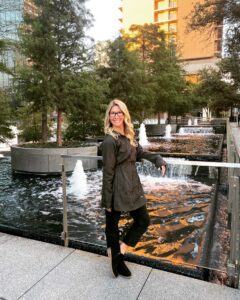 As we take time to reflect on Women's History Month and the achievements of women throughout our organization, we are inspired by Lauren Hendershot, program coordinator for Penn State's Justice and Safety Institute, Criminal Justice Professional Training. We recently spoke to her about her role and how it has developed over time.
Tell me about your role with Penn State Outreach.
The Penn State Justice and Safety Institute Criminal Justice Professional Training unit provides management and leadership training as well as specialty trainings in the areas of Report Writing, Grant Writing, and Field Training Officer (FTO) to law enforcement throughout the country and has also had an impact internationally. In my role, I schedule and promote of all of the courses in our curriculum library. We currently offer 10 different courses which range in length from 3–10 days.
How does your work impact the communities within Penn State Outreach?
A majority of our courses are held at various academies and police departments throughout the Commonwealth of Pennsylvania. We have students from departments of all sizes attend our courses and learn from and network with each other. Our courses are written by subject-matter experts with years of experience in the field and utilize multiple adult-learning principles in the classroom to prepare students for the different positions they may hold within their careers. These programs are crucial for law enforcement to attend, not only to learn the information on how to be stronger leaders and managers but also to serve their communities more effectively.
How do you hope to see your position grow during your time with Penn State?
I have been in this position for almost four years and during that time, my position has already evolved in a positive way. With the COVID shutdowns in March of 2020, our unit was faced with a unique situation in the way we presented our programs. Historically all of our programs were held in person throughout Pennsylvania and other states throughout the country, but restrictions on in-person gatherings hindered the ability to be able to conduct these important courses. In October 2020, we launched our very first virtual class using Zoom, and it has been a wildly successful venture for our unit. Our reach has far surpassed what we could have imagined by being able to offer these programs in a virtual setting, which has resulted in students from all over the country coming together to learn from us and each other in one virtual classroom.
What about your work makes you most proud?
What makes me the most proud about my work is that not only are we able to make an impact on the students that we serve, they are in turn taking what they have learned and applying it to their everyday actions in their communities. We provide them with quality training to keep themselves and the people they protect safe.
What advice would you offer to individuals who are interested in making a greater impact in their respective fields?
I think it is important to realize that what a participant learns in the classroom, at an event, or in any situation where you are giving them the tools to make a difference does not stop with that person. The reach goes far beyond that. I feel that we learn so much from others, and the sharing of information and skills can benefit not only the person receiving it but every person they come into contact with!