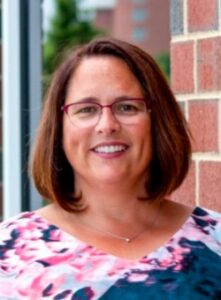 Our recognition of Women's History Month and the achievements of women throughout Penn State Outreach continues with our conversation with Brynn Rousselin, Director of the Osher Lifelong Learning Institute (OLLI) at Penn State.
Tell me about your role with Penn State Outreach.
In my role, I have the privilege of interacting with staff, faculty, and other partners to directly enrich the lives of mature learners in our local community and beyond through educational programming, social activities, travel experiences, and volunteer opportunities. I have a background in adult learning, earning an M.Ed. in curriculum, instruction, and technology in education, with experience in both the corporate and higher education environments. When I made the decision to join OLLI, I knew I would appreciate reengaging more deeply with learning and curriculum development, however what I didn't realize I would appreciate even more is the sense of community that I have found both with our members and with Outreach staff. We are fortunate to see the direct impact of our work on the lives of others every day.
How does your work impact the communities within Penn State Outreach?
OLLI at Penn State's vision is to create a community that promotes lifelong learning while embracing our values of education, integrity, quality, and diversity. Our mission is to provide educational, social, travel, and volunteer experiences for mature adults (age 50 and above) to enhance and enrich their lives. With no homework, grades, or tests, OLLI offers a robust schedule of noncredit programming throughout the year that focuses on learning simply for the joy of learning. Along with other benefits of lifelong learning, our social, travel, and volunteer programming plays a significant role in the sense of personal fulfillment and happiness of our members. OLLI provides a safe space to connect with others either online or in person — combating the dangers of isolation and loneliness many seniors can experience. 
How do you hope to see your position grow during your time with Penn State?
Because I joined OLLI just before the pandemic hit, I unfortunately did not get the "full OLLI experience" before our lives or work changed so dramatically. I am looking forward to the next year or two as we continue to rebuild and re-establish our programming, memberships, and community. 
What about your work makes you most proud?
I am extremely proud of the work we do and the team we have. I am fortunate to work with individuals who share this passion. It is evident in the way in which they "show up" each and every day. As a service-driven organization, each interaction with our members, instructors, and volunteers has an impact, and I know the OLLI team takes this to heart. Our members often comment about the incredible service they receive from staff and the sense of camaraderie we have established. I am also proud that we consistently seek new and innovative approaches to content creation, program delivery, and social gatherings. In the past year we have held three large-scale events (all new concepts for OLLI) in which we highlighted the benefits of lifelong learning, social connection, and celebrating our successes and the importance of well-being as we age.
What advice would you offer to individuals who are interested in making a greater impact in their respective fields?
My advice for individuals who want to increase their personal impact is to find what makes you passionate, what drives you, or makes you stand out from others — we all have something special about ourselves. You cannot be all things to all people and leveraging your passion and uniqueness can often make the difference. In other words, be your authentic self and align with a group or work that supports or compliments your personal values and work goals.
Ways in which we can make a greater impact vary in size, scope, and approach based on the role you are in or want to achieve. Whether with internal co-workers, external partners, or communities, focusing on small-scale, immediate impact is a great place to start. Small steps add up to large-scale impact.