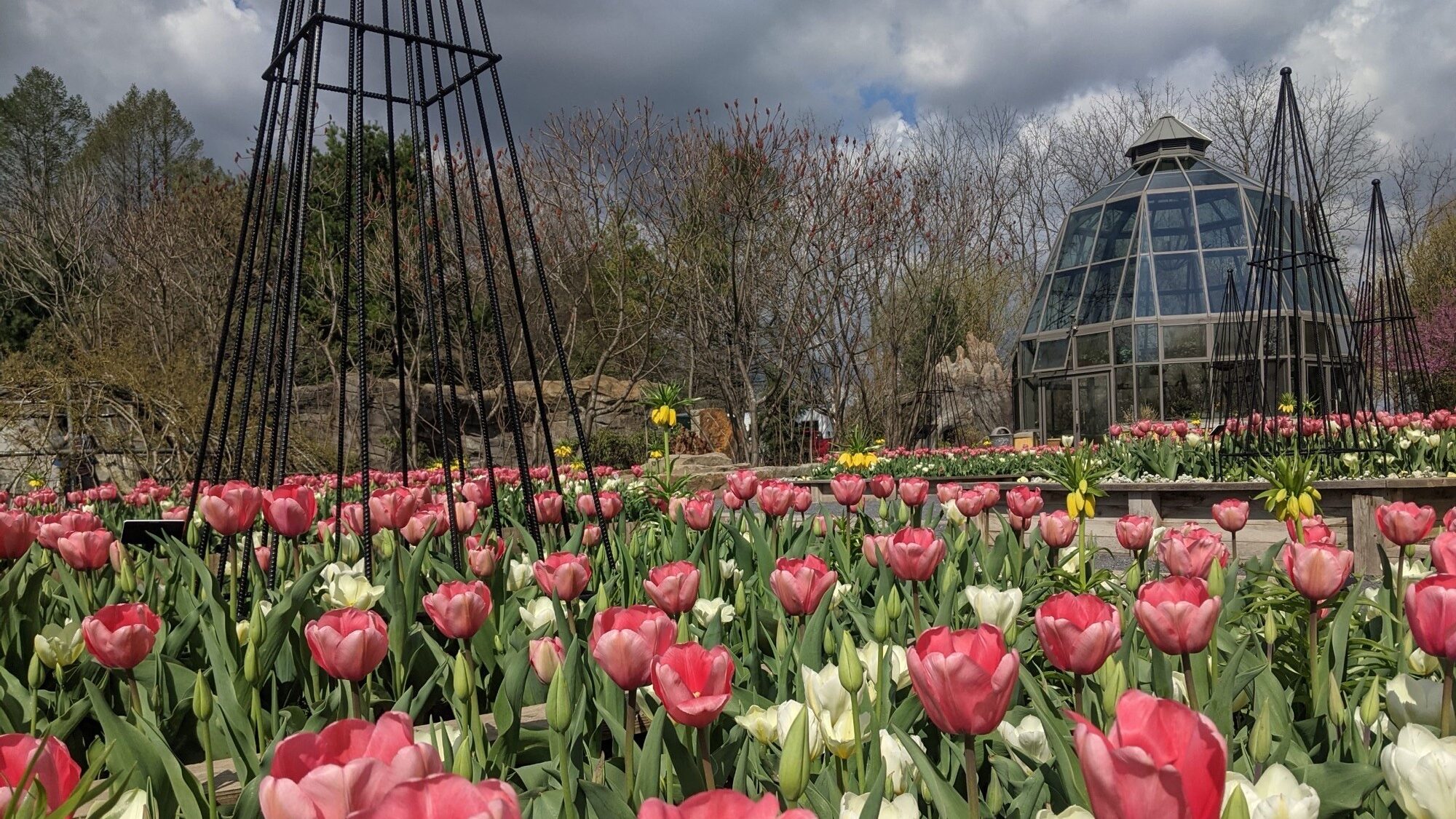 At the corner of Park Avenue and Bigler Road on Penn State's University Park campus sits The Arboretum at Penn State — open for visitors from dawn to dusk each day. The Arboretum has a rich history and many highlights that are attractive to visitors. Each year more than 150,000 visitors stroll through the botanic gardens; view special exhibits; attend community events and private rental events; and participate in tours, field trips, educational activities, and public programs.
Although Penn State's Board of Trustees first set aside land for an arboretum in 1914, it took nearly a century for that early vision to be fulfilled. The pioneering commitment of a lead gift of $10 million by Charles H. "Skip" Smith in 2007 enabled the University to begin taking the arboretum from plan to reality.
The initial phase of the Arboretum's H.O. Smith Botanic Gardens opened in 2009, and gifts from thousands of additional donors have allowed the Arboretum to develop new areas, including the Childhood's Gate Children's Garden (2014) and the Pollinator and Bird Garden (2021). Of the nearly 30 acres designated in the master plan for cultivated gardens, ten have now been developed.
Beyond the botanic gardens lie 340 acres of additional Arboretum lands, including fields and woodlands that are being restored, used for research, or developed as educational and recreational project sites.
The Arboretum at Penn State engages the academic strengths of the University in promoting scholarship and education about plants and their history and importance on earth. It is a place of beauty and renewal, a venue for the arts, and a pathway to discovery and enrichment. With its emphasis on excellence in design, collections, and programming, the Arboretum has already become a beloved part of Penn State and a premier regional attraction.
In 2016, the Arboretum was designated as the heart of an Arboretum Cultural District that will serve as a gateway to the discovery of art and science at Penn State. Components of this interdisciplinary district include an art museum, conservatory, planetarium, amphitheater, and interdisciplinary museum. The first step in implementing this vision will be the construction of the new Palmer Museum of Art from 2021 through 2023.
Garden Highlights
The H.O. Smith Botanic Gardens contain more than 100 families, 330 genera, and 1,100 species and cultivars of plants arranged in several striking gardens and collections. These collections serve as an educational instrument for campus and community; facilitating botanical, horticultural, and environmental research; delighting visitors with the beauty of plants and the natural world; and providing a venue for the arts and public events.
Pollinator and Bird Garden
This three-acre garden showcases the astounding diversity of Pennsylvania's pollinator and bird species, as well as the plants and ecosystems upon which they depend. Designed in partnership with Penn State's Center for Pollinator Research, ornithology faculty, and other University and outside experts, the new garden connects scholarly research with visitors and provides wildlife-friendly garden inspiration.
Childhood's Gate Children's Garden
This family-favorite destination is modeled on the central Pennsylvania landscape and celebrates the flora, fauna, and natural history of our region. Designed to encourage curiosity and exploration, the garden offers many "nature play" activities and serves as a hub for our children's and family educational programs.
Hartley Wood and the Marilyn Quigley Gerhold Wildflower Trail
Approximately 30 acres of the Arboretum are occupied by a remnant old growth forest, the Hartley Wood. An important step in securing the future of this unique habitat was made possible by a generous gift from Henry Gerhold, establishing the Gerhold Wildflower Trail and enabling the restoration of the forest's native plant communities.
Prairie Restoration Project
While limestone prairies were never common in central Pennsylvania, their existence was noted as long ago as the 1770s, and some remnant parcels persist to this day. By recreating this rare but native plant community, the hope is to contribute to the ecological diversity of the local landscape and restore some of the region's natural heritage.
The Bellefonte Central Rail Trail
This crushed limestone trail follows the former Bellefonte Central Railroad bed for 1.3 miles through the Arboretum. Because of its quiet and naturalistic setting, the trail offers an exceptional recreational opportunity close to campus and the community. In addition, many hikers and bicyclists use it as an alternative route to campus.