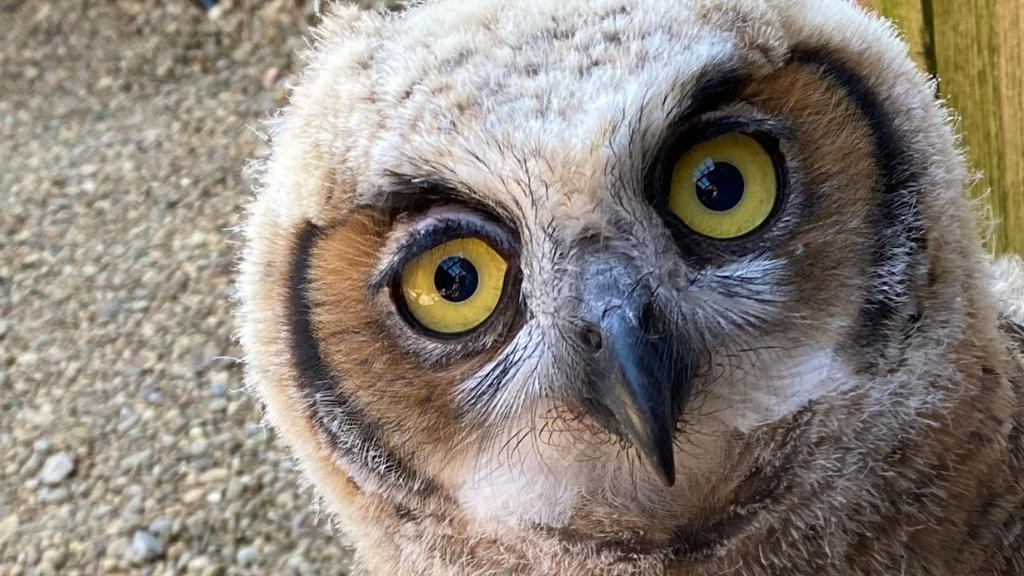 Nature's wonders never cease to amaze with the arrival of new baby animals, and baby owls are no exception. Their innocent gaze, fluffy feathers, and adorable playfulness have a way of stealing our hearts.
Sunny, the great horned owlet, has arrived at the Klingsberg Aviary at Shaver's Creek with open wings, just like The Beatles predicted: "Here comes the sun, doo-doo-doo-doo."
At about a month and a half old, Sunny exhibits constant curiosity, the drive to learn how to fly, and a desire to stick his landings. Additionally, he's quite the snacker and always seems to be munching on something tasty — currently eating more grams of food per day than an eagle! Based on his small stature, he is believed to be a male, as male great horned owls can be up to 20% smaller than females.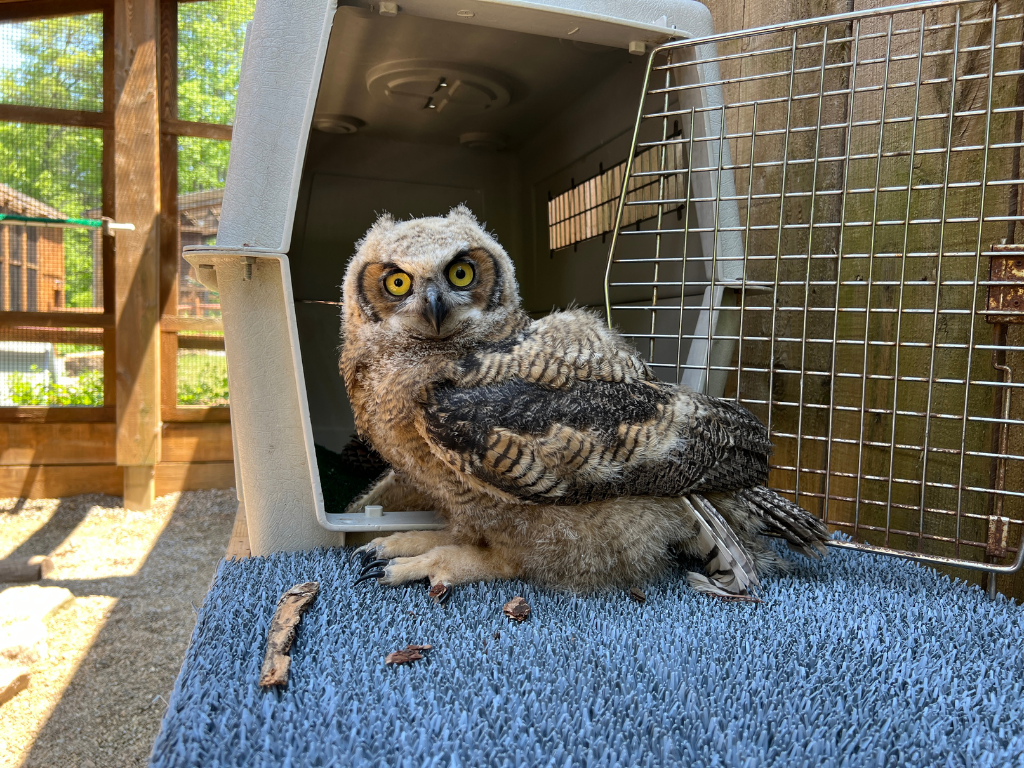 Although great horned owls are common in Pennsylvania, Sunny came to Shaver's Creek from Wisconsin. He was cared for by a kind bystander, who assumed he had been abandoned, until it was time to hand him to a rescue and rehabilitation center. However, by the time he was turned over, Sunny had already imprinted on humans, making it impossible for him to be returned to the wild. He trusts, identifies with, and depends on humans for all his needs, including primary care, feeding, and comfort.
All the Klingsberg Aviary resident birds (two barred owls, an Eastern screech owl, a barn owl, a peregrine falcon, an American kestrel, a bald eagle, a golden eagle, a red-tailed hawk, a broad-winged hawk, a vulture, an American crow, and Sunny) arrived from rehabilitation centers with permanent disabilities and work alongside Shaver's Creek's Wildlife Education and Engagement staff and volunteer team as ambassadors for their wild counterparts.
Video courtesy of Will Robertson
The Wildlife Education and Engagement staff and volunteers are working [almost] around the clock, monitoring Sunny in hopes of learning more about him and seeing how he responds to new stimuli and his new home. Visitors can see Sunny during the aviary's standard 10:00 a.m. to 5:00 p.m. visiting hours.
Visit the Shaver's Creek website for updates on Sunny and to learn more about the aviary and what Shaver's Creek has planned this summer.