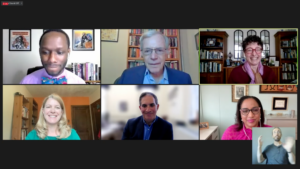 What is the story of Juneteenth? Why do we celebrate this newly designated federal holiday, and how is it connected to freedom, one of the most cherished American ideals? These were the questions answered during the virtual film screening and panel discussion, Juneteenth: Exploring Freedom's Stories.
On June 15, Penn State Outreach and Online Education and the University of Pennsylvania's Annenberg Public Policy Center co-hosted a virtual screening of Juneteenth: Exploring Freedom's Stories. The film depicts the history of Juneteenth as it celebrates many of the freedoms we hold as Americans. The story of Juneteenth begins on June 19, 1865, with the abolition of slavery in Texas. Subsequently, the passage of the Reconstruction Amendments to the United States Constitution further safeguarded American liberties. The 13th, 14th, and 15th amendments eradicated slavery, granted American citizenship to anyone born in the U.S., and ensured voting rights for men irrespective of their skin color.
After the film screening, Dr. Justin Schwartz, executive vice president and provost of Penn State joined American history scholars from around the country to discuss the lasting impact of Juneteenth on every American citizen.
Moderators
Richard D'Von Daily, Ph.D. candidate, U.S. History and African American Studies, Penn State
Andrea (Ang) Reidell, Director of Outreach and Curriculum, Leonore Annenberg Institute for Civics, Annenberg Public Policy Center, University of Pennsylvania
Panelists 
Dr. Justin Schwartz, Executive Vice President and Provost, Penn State
Dr. Daina Ramey Berry, Michael Douglas Dean of Humanities and Fine Arts, UC Santa Barbara
Dr. Cathleen D. Cahill, George and Ann Richards Civil War Era Center, Walter L. Ferree and Helen P. Ferree Professor in Middle-American History, Penn State
Dr. Eric Foner, DeWitt Clinton Professor Emeritus of History, Columbia University
Resources 
The panelists recommend the following resources for anyone to use to learn more about Juneteenth.
Video and Audio 
Books and Articles